Thermalboard is a low-profile, efficient, and cost effective radiant floor panel system. Factory direct to your jobsite.
We make it easy!
Fill out this form to get a free project estimate. Factory direct to your jobsite. Freight free!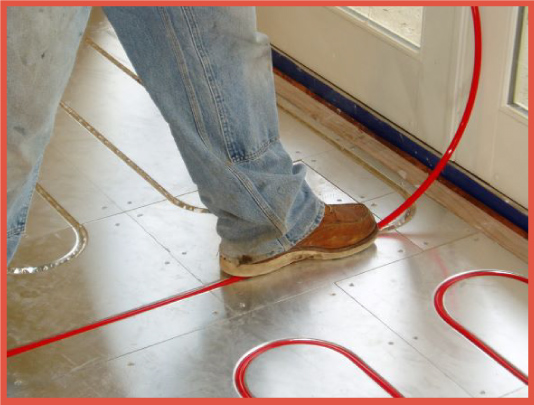 See how easy it is to install Thermalboard!
Superior Performance
Thermalboard installs directly below finished floor, high conductive aluminum results in high heating efficiency. High efficiency means lower operating costs for years to come.
Superior Responsiveness
ThermalBoard is many times more responsive than a cementatious thermal mass; providing quick heat up, avoidance of over-heating and greater zone control.
Conventional Construction
ThermalBoard is installed within the natural flow of a construction projecting using conventional practices and conventional tools.
Free Freight
We deliver factory direct to your jobsite freight free!
Low Profile
Thermalboard has a very small 5/8 " profile making it ideal for retrofit or remodeling applications.
Lightweight
ThermalBoard is very lightweight, which can be a significant factor in raised floor spanning calculations.
Thermalboard VS
Gypsum Concrete Pour
Thermalboard is more efficient than gypsum concrete, responds more rapidly, easily installs in the flow of your project and, in many cases, is less expensive. See the project cost comparison.
Thermalboard VS
Quik Trak and Climate Panel
Thermalboard is significantly more efficient than Quik Trak. It is also lower in cost and provides a higher performance and easier installation. Click below to see a full comparison between Thermalboard & Quik Trak / Climate Panel.
Thermalboard VS
Radiantec Underfloor
While underfloor heating may be accessible to certain DIY clients, systems where radiant tubing is installed below a sub-floor are at a significant performance disadvantage. Click the link below for a detailed comparison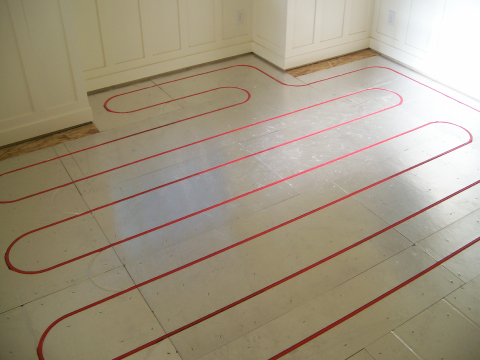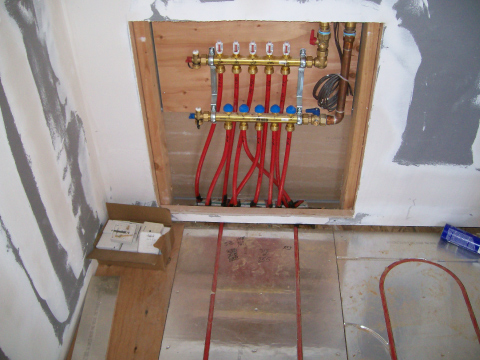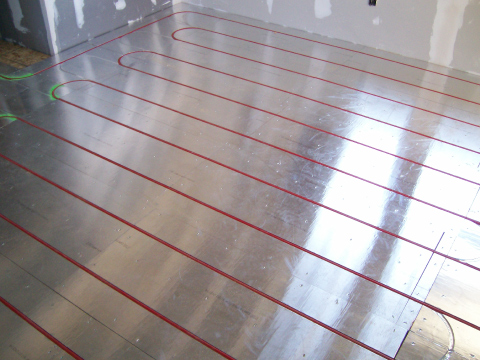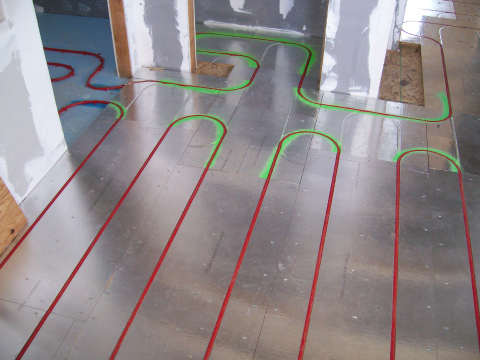 See the installation of a Thermalboard licensed product in an existing home.
Easy Installation with Thermalboard
See the installation of a Thermalboard licensed product in a major remodel.
Radiant Wall: How to Make a Heated Wall
See a Thermalboard licensed product installed in the wall!
Here are some questions that often arise. Feel free to call us any time with any questions!
What kind of radiant tubing should I use?
One should use standard 3/8" barrier PEX tubing from any number of manufacturers. Do not use PEX-AL-Pex as it will become an oval when inserted in the grooves instead of rebounding to fill the slightly undercut grooves in Thermalboard. Standard PEX will expand into the groove creating a strong, silent connection enhancing thermal transfer.
Who should install Thermalboard?
Thermalboard is typically installed by the general contractor with basic carpentry skills. A licensed radiant floor heating mechanical or plumbing contractor should install the heat source, distribution piping, pumps, controls etc.
When is ThermalBoard installed?
ThermalBoard is typically installed just prior to the installation of finished flooring goods. Store ThermalBoard on the job site in a dry, cool space and it is ready to be installed with delays, in the natural progression of construction.
Can all flooring goods be used over Thermalboard?
Yes. Consult the Thermalboard manual for the details regarding the application of flooring goods.
Does Thermalboard outgas formaldehyde?
Thermalboard does not outgas formaldehyde for two reasons. First, there is very little formaldehyde now used in MDF board, such as that used in Thermalboard. Secondly, Thermalboard is laminated with aluminum which does not permit the large formaldehyde molecules to pass. Here is an independent testing report on Thermalboard for formaldehyde outgassing which found zero levels measured. Download the full report here
Free project estimate factory direct to your jobsite. Freight free.