Thermalboard Compared to Uponor Quik Trak
Brand Names: Viega's Climate Panel and Uponor's Quik Trak are the same product under different brand names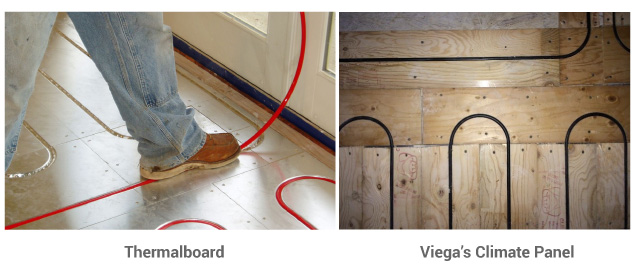 Viega's Climatepanel is made of grooved 1/2" thick plywood with the aluminum on the underside using very small 5/16" PEX pipe.
Quik Trak / Climate Panel Design & Performance Issues
Increased Efficiency: Thermalboard is significantly more efficient than either product resulting in lower operating costs. Factory charts show these products need MUCH higher water temperature than Thermalboard to meet a heating load.
Design & Layout: Thermalboard provides board design layout. Quik Trak/Climate Panel do not.
Faster Response: Thermalboard responds faster than Climate Panel or Quik Trak.
Better Tubing Size. Thermalboard uses larger tubing requiring fewer manifold drops.
Benefits of Thermalboard Radiant Floor Heating
How Quik Trak / Viega Compares to Thermalboard
Thermalboard Is Far Easier to Install
Tubing: The choice of ½" plywood forces the use of a very small specialty PEX tubing (5/16") that requires many more, shorter loops with the resulting additional manifold drops OR the use of excessively long loops for this size tubing resulting in energy inefficient high head pumping. Either way is an unattractive choice.
Cost Competitive
Thermalboard is directly competitive with Quik Trak or Climate Panel, delivered factory direct to your job site.
Less Expensive Installation
These products use very small, specialized tubing than force the need for short radiant loops and more loops resulting in more manifolds and overall more labor.
Sold Direct to Contractor
No more wasting time sorting through hundreds of parts on Supplyhouse or Ferguson. Thermalboard is sold direct to contractor — no assembly required. 
See the installation of a Thermalboard licensed product in an existing home.
Easy Installation with Thermalboard
See the installation of a Thermalboard licensed product in a major remodel.
Radiant Wall: How to Make a Heated Wall
See a Thermalboard licensed product installed in the wall!
Free project estimate factory direct to your jobsite. Freight free.