Radiant Floor Heating for Retrofit and Remodeling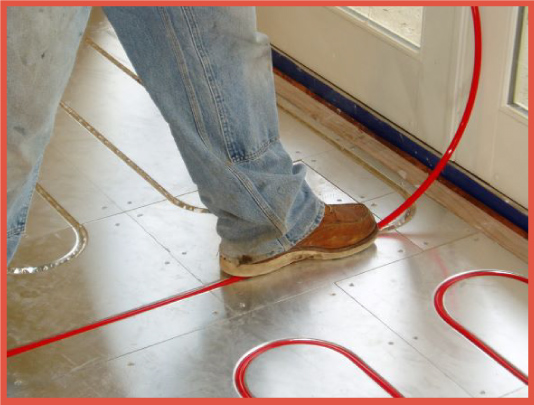 Thermalboard is the ideal radiant floor heating solution for remodels
Thermalboard is an excellent solution for radiant floor heating remodeling and retrofit applications. The panel's 5/8" low profile can be accommodated in most existing structures; it is light weight and easy to cut and is especially cost effective for smaller jobs.
Thermalboard is easy to install by any general contractor following our panel layout and step by step installation manual. Our radiant floor heating provides a very quick responding and efficient solution for comfort and lower energy bills.
Radiant Board Panel Layout Included
Save hours of labor with our free design & layout services
Our layout service includes the location of RadiantBoard panels, tubing and manifold locations. A CAD layout is highly recommended to ease installation and save hours of labor for inexperienced installers.
Common methods for radiant heat remodeling
Radiant heat remodels can go into a new concrete floor addition, under an existing subfloor or in a thermal panel, like Thermalboard, on top of a subfloor or existing concrete slab. While underfloor staple up radiant systems can resolve issues with existing flooring goods, underfloor systems are far less efficient, respond more slowly and are time consuming to install.
Radiant Heat Retrofit of Existing
Hydronic System
If you have an existing baseboard or other type of system, Thermalboard can be an excellent upgrade solution. Just keep in mind that if you have an existing high temperature radiator or baseboard system, a mixing valve must be installed to lower the temperature entering the Thermalboard radiant section of your system.
See the installation of a Thermalboard licensed product in an existing home.
Easy Installation with Thermalboard
See the installation of a Thermalboard licensed product in a major remodel.
Radiant Wall: How to Make a Heated Wall
See a Thermalboard licensed product installed in the wall!