We make it easy!
Fill out this form to get a free project estimate. Factory direct to your jobsite. Freight free!
Thermalboard Radiant Floor Heating System
A hydronic radiant floor system is composed of a hot water heat source, a circulator(s), a control, and the piping to deliver the hot water heat.
The heat can be delivered to a thin or thick slab, to underfloor heat transfer plates, or to a board system. The thermal mass heat transfer assembly or product is a critical element in creating an efficient, responsive radiant heating system.
Thermalboard modular radiant board system is comprised of grooved composite boards laminated with aluminum designed to be used in new construction and remodeling over a sub-floor, or when properly installed, over cement. The two types of 48"x 18" boards have grooves ½" deep and spaced 8" apart.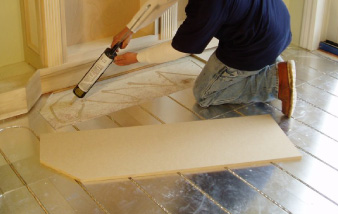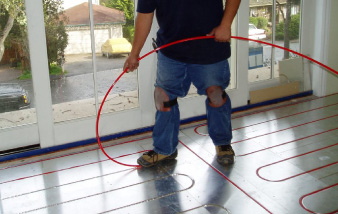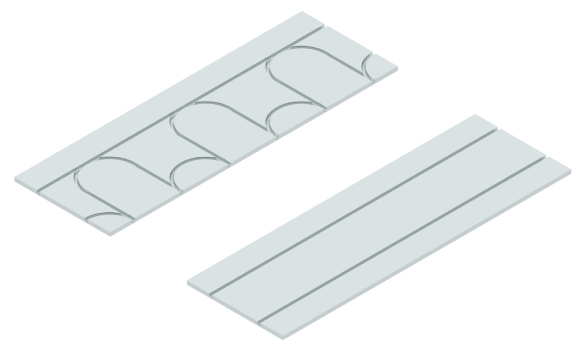 After the boards are attached to a subfloor in a pattern provided by a Thermalboard design layout, 3/8" PEX tubing is rolled into and secured in the grooves with a slight overbite creating strong thermal contact. The tubing is connected to brass manifolds that are piped to the heat source.
When the thermostat calls for heat a small circulator pumps warm water through the tubing, that transfers to the Thermalboard and the finished floor goods providing luxurious, silent, even heat. Thermalboard can be used under almost any floor covering.
We hope you will explore our website to find out why Thermalboard is a great design and value, compare systems, explore installation details and methods, how to have a system designed, and shipped directly to your job site, freight free.
Thermalboard has two board patterns; Straight and Combo that are laid out according to your Design Layout provided by Thermalboard and installed and attached by means of construction adhesive combined with screws or cross stapling as recommended in the Thermalboard Installation Manual.
The pattern creates the pathway into which 3/8″″ ASTM F 876-877 PEX tubing is placed. When warm water is pumped through the tubing, it rapidly transfers heat to the floor surface providing luxurious, silent, even heat. It can be used under almost any floor covering. Typically, the board is applied over the 80% to 90% of a project that is not under stairs or cabinets.
Please download our Thermalboard Application and Installation Manual which contains design information, installation instructions and numerous floor assembly details.
Free project estimate factory direct to your jobsite. Freight free.